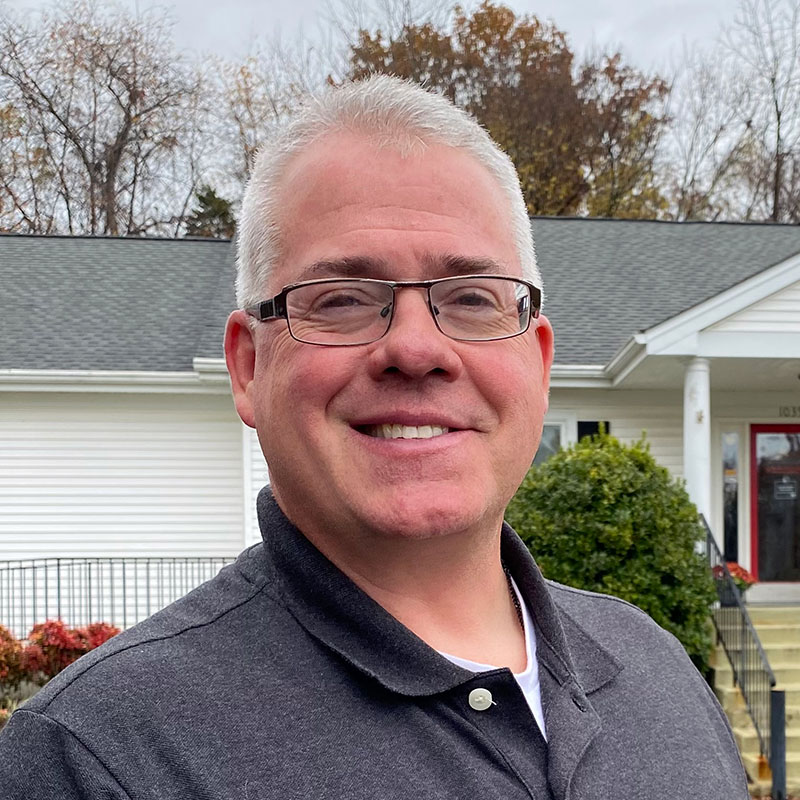 Brian Edwards, Board Chair
Brian originally hailed from Northern Virginia but fell in love with the Shenandoah Valley when he went to Bridgewater College where he earned a degree in history and political science. He also met his partner in crime, Michele, and married her shortly after graduating. Together they settled in Fishersville and then moved to Waynesboro where they raised their three children, Carly, Isaac, and Olivia. All of whom are Waynesboro High School graduates and attend or graduated from Virginia Tech.  

Brian spent 26 years as a police officer for the Waynesboro Police Department and retired at the rank of sergeant. In 2019, he became a school teacher for Waynesboro and Augusta County Public Schools. He has found his passion in teaching math to high school and middle school students at Valley Academy Alternative School in Fishersville. He is a member of Fishersville United Methodist Church where he has served in many capacities. He also served two terms on the Waynesboro School Board and various other local commissions and advisory boards.

Brian's path to WARM began in 2011 when he was working a patrol dayshift that ended with the discovery of the body of a homeless man who had been bludgeoned to death by two other homeless men and discarded like trash in the South River. As a devout community activist, Brian joined his church in being one of the first churches to host the Cold Weather Shelter. He spent many nights fellowshipping with our unsheltered neighbors, many of whom he had had interactions with as a police officer. "All people are worthy of God's love which is manifested in shelter, food, warmth, and being treated as a human." Brian joined the WARM Board of Directors in 2015 and has served as board chair since 2018. 
Tim Armentrout, Vice Chairman
Tim has a heart and passion for serving the communities of Waynesboro, Staunton, and Augusta County.  He is a long-term board member of WARM currently holding the position of Vice Chair.  Tim's involvement in WARM began in the early stages of development.  One of the main goals with the Cold Weather Shelter is to educate our communities on what homelessness really is and how homelessness attacks all walks of life.  Tim also serves as the Cold Weather Shelter coordinator for Fishersville United Methodist Church.  For many years now FUMC has hosted the Cold Weather Shelter during the weeks of Thanksgiving and Christmas!  The program has been as much of a blessing to the church as it has to the shelter guests!  Another passion for Tim is his interest in the education of young children.  He continues to serve as chairman of the board of directors for Noah's Ark Learning Center, a mission of Fishersville United Methodist Church.

Serving the community as a real estate agent with The A Team under the brokerage of Nest Realty Group in Staunton, VA

Tim and his wife, Ann reside in Fishersville, and they have two daughters, Erin Armentrout of Fishersville and Emily Bailey of Troutville, VA.  All love to travel!
Sharon Wood, Treasurer
Proud to be a native of Augusta County, Sharon finds being involved in organizations that reach out to help others is where she wants to spend her time in serving her community. As soon as Sharon learned of the WARM organization being formed, she knew this was an organization she wanted to support. In 2014 she joined the WARM board and has served as the treasurer throughout her time with WARM. In addition to serving on the board, she has been instrumental in bringing her church, Tinkling Spring Presbyterian, into a partnership with WARM as they co-sponsor the Presbyterian Room in the Ruth Anderson WARM House and also serve as a host for the Cold Weather Shelter. Sharon has spent nights at the shelter, prepared meals, interacted at the zig-saw puzzle table with WARM guests, all while serving as the Tinkling Spring WARM co-coordinator since the first year the church hosted the shelter.

Sharon holds an associate degree from Blue Ridge Community College and a Bachelor of Science degree from Eastern Mennonite College. Sharon has utilized her education in business/accounting throughout her long, dedicated career to RAHE Inc. where she serves as Secretary/Treasurer.

Sharon is married to Roger and they have one son, Tyler, and a daughter-in-law, Sarah. When not busy working or volunteering, Sharon enjoys spending time with family and friends, cooking, and reading. 
Patty Quillen, Director
Jill Klippel, Director
John Kappes, Director
Tom Brown, Director
Tom is an alumnus of Virginia Tech with a degree in engineering and was employed by DuPont for 31 years. He has been very active in the community for many years and has held leadership positions in such organizations as Big Brothers/Big Sisters (was the founder of this organization), Arc of Augusta, United Way (chair of two campaigns and United Way asked DuPont to have him chair their Community Campaign), RiverFest, Dogwood Place, Waynesboro Senior Center, Camp Virginia Jaycee, Rotary, WARM, and the Wayne Theatre Alliance. He received the distinguished Salvation Army's Overton Award and has been named one of five Outstanding Young Men of Virginia. He is an active member of Main Street United Methodist Church and has held numerous leadership roles. While in the Marine Corp, he received the, "Marine of the Quarter" in his command and the Navy's Achievement Medal. He was the first to be awarded Honorary Lifetime member of the Big Brothers/Big Sisters. In the Jaycees, he held leadership roles as local President, State Regional Vice President, was named President of the Year and was given the award Life Membership in the Virginia Jaycees and Senatorship in the United States Jaycees.  Tom was a leader in building the handicap Fishing Pier in Ridgeview Park and has led the scholarship committee many years both at DuPont and in Rotary.  Tom went into Real Estate in 2004 and is an agent with Westhills Ltd Realtors. Tom has received numerous awards in the Real Estate business including voted "2007 Valley's Favorite Realtor" by area residents, the "Presidential Award of Excellence" by Local Real Estate Board most years in the business, and awarded The News Virginian's "Community Involvement Award".
Hunter McMillon, Cold Weather Shelter Manager